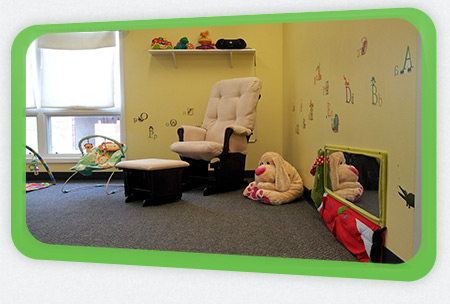 Infant Care
Our nursery is full of wonder that invites exploration and opportunities to learn in a variety of ways. We have created a safe, nurturing environment for babies that feels like a home-away-from-home.
Our priority for each day in addition to nurturing is creating a unique and stimulating environment of play, music, social interaction, and language repetition. This includes the use of stories, blocks, table toys, music and movement as well as outside activities and playtime. Our teachers will use teachable moments to encourage learning and independence, while each child explores using all their senses and abilities.
Our nursery includes infants from 6 weeks to 18 months. Activities are done according to each child's ability and development.
Naps and feeding times vary according to each child's schedule. To continue our partnership with parents, times are recorded along with details such as how long he/she slept, and amount of milk/formula and food. Diapers are checked after feedings and on a set schedule. Interactive play times and playing alone times are alternated according to his/her interest and energy levels.